399 Million follower Kylie Fashion
10 Kylie Jenner Fashion Tips For 2023 Fashion. Those looking for Kylie Jenner style will find this blog quite useful. Kylie Jenner is an American socialite, media personality, businesswoman, and fashion icon. Also, the youngest of all Jenner sisters commands a huge 399 million following on Instagram.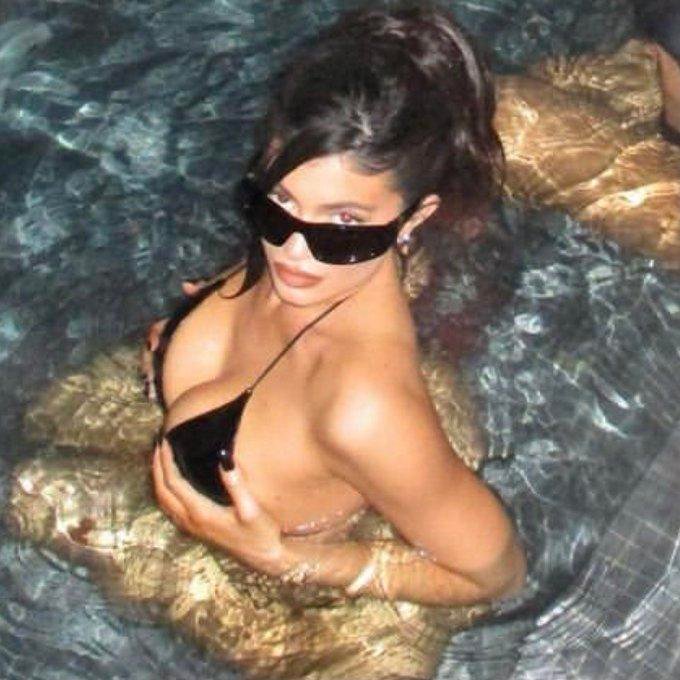 Let's see the latest Kylie Jenner fashion style from her social media pictures. Her Instagram account is full of her pictures in different dresses and poses. She motivates her fans through her pictures. As expected, she has millions of pictures but we can publish only a few of them due to space-related concerns.
We will try to describe Kylie Jenner fashion evolution and growth so you have a better understanding of her life and activities. She is young and hugely popular on social media. Her fans take her as a leader and the media takes her as an influencer. For entrepreneurs she is an inspiration and for society, she is a philanthropist.
Here we go for Kylie Jenner style
Bikini Star
This picture is the best of Kylie Jenner street style. Also, it won't be an exaggeration to say that no one can do it better than Kylie Jenner. She stands 5 feet 6 inches (1.68 meters) tall and weighs 56 kg (127 pounds). Her measurement is 38-25-39 inches (97-64-99 cm). She has chiseled her body to fit into a bikini and the result is this picture. If you want to wear a bikini, you should also bring your body into the right shape so you also become a bikini star.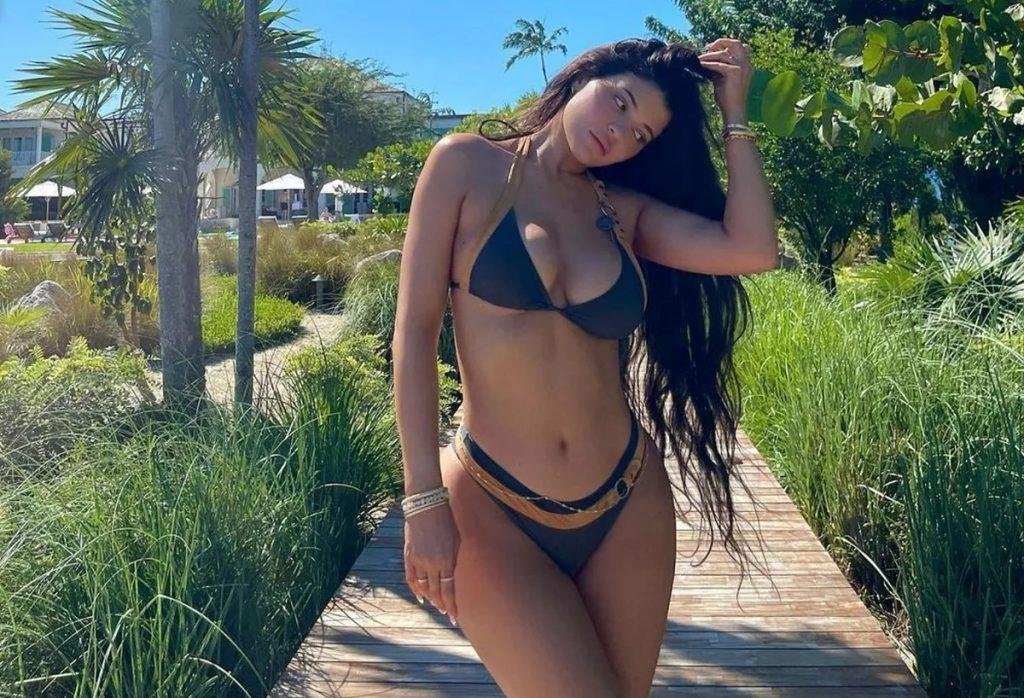 Kylie Jenner Style Crop Top
I stumbled upon this picture while looking for Kylie Jenner outfits jeans. It isn't jeans but you will like the crop top style. The thing to notice in this picture is the way Kylie Jenner transforms this simple dress into an exclusive wear. Her pigtail style, white footwear, and strip palazzos jeans match perfectly with the black crop top. If you want, you can also give it a try. This dress is more suitable for gym, walking, and outing with friends.
Shirt Style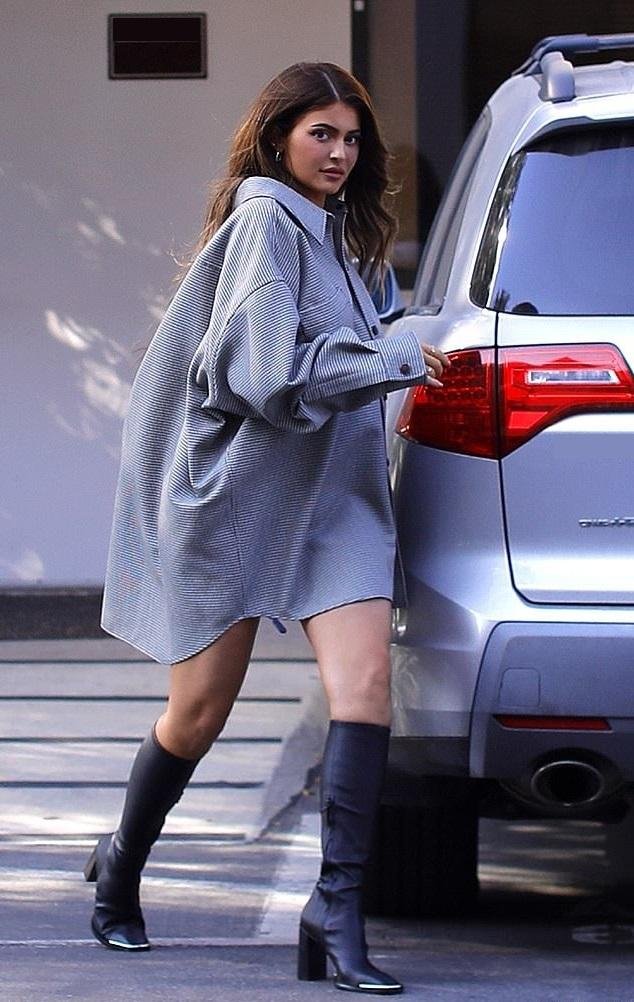 This picture is a perfect example of Kylie Jenner fashion style evolution. The blue striped shirt worn as an oversized gown shows her creativity. If you want to look like the girl next door then try to imitate the shirt style of Kylie Jenner. Buy an oversized shirt and put it on with all buttons locked. Also, get an open hairstyle, if you have long tresses. But never mind if you have a bob cut or shoulder-length hair. You can still wear an oversized shirt.
Checkered Suit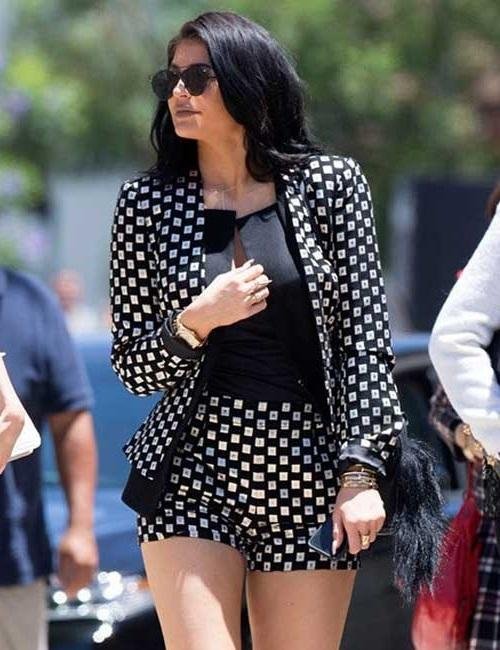 Look at her pictures for Kylie Jenner fashion tips. For example, take this picture in the checkered suit. She has put on a checkered blazer with matching shorts and a black top. It is a summer dress that you can wear for shopping dates. It is better to wear this dress in the daytime. Like her, you can also accessorize your suit with black goggles to protect your eyes from the sun. Also, you can wear a cross-body bag to keep your belongings.
Oversized T-Shirt With Shorts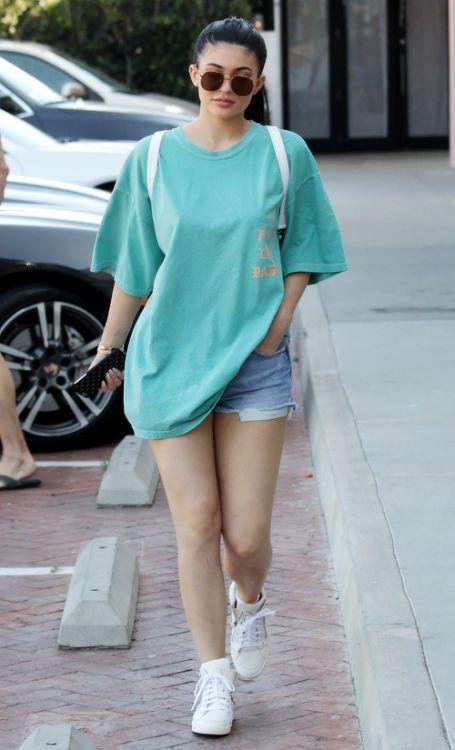 If you are interested in Kylie Jenner street style, you will be inspired by this oversized t-shirt and shorts combination. This picture was taken out of a coffee house. As soon as she stepped out of the coffee home, a camera clicked the perfect shot and she took no time in posting it on her social media. Here the thing to note is the color of her t-shirt and shorts is light. Also, she is wearing white sports shoes and carrying a white backpack.
Kylie Jenner Style Red Tracksuits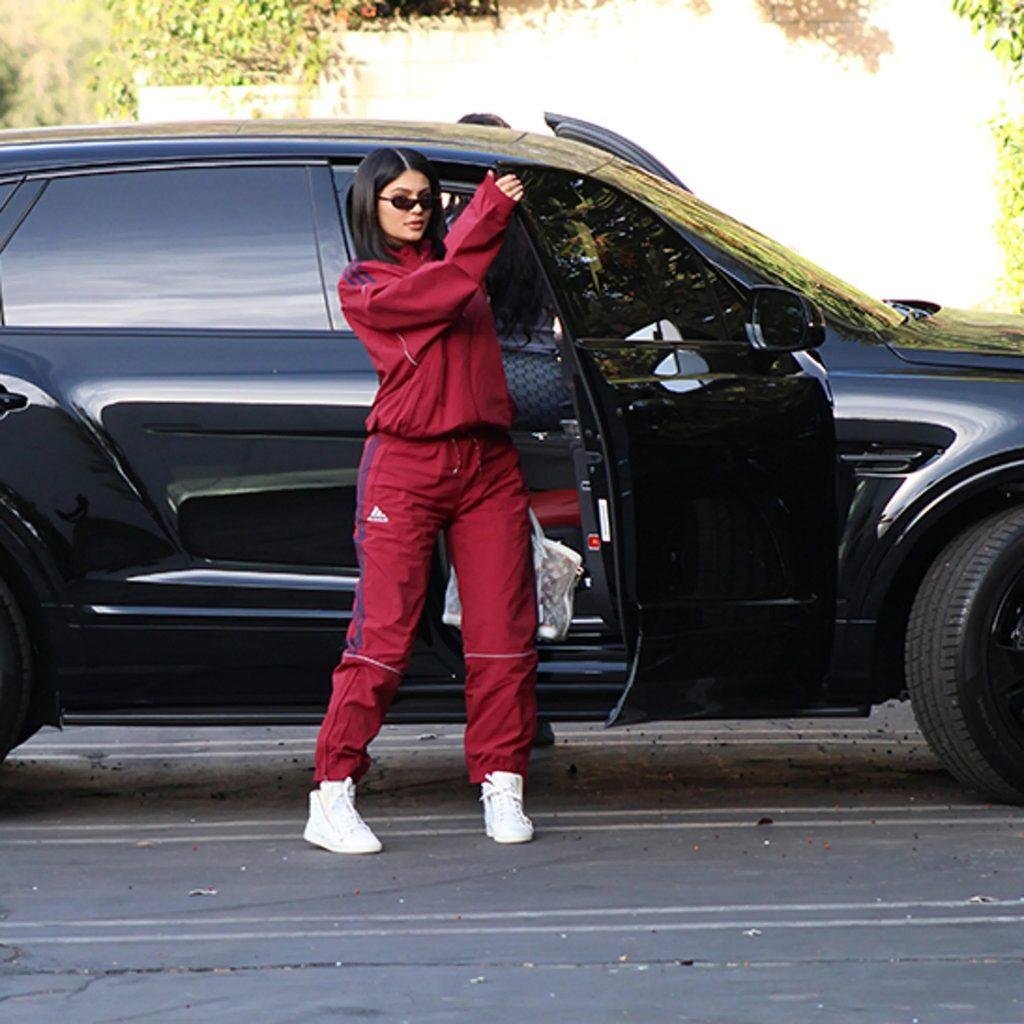 It is exclusive to Kylie Jenner clothing style because it shows her happy mood. The dress includes a red tracksuit with a matching red cross-body bag worn over a contrasting white top. Her tresses are perfectly combed and she has worn oversized goggles to match with her dress. In this picture, she's taking a selfie and showing her wristband. If you want to wear this dress like Kylie Jenner, you will also need goggles, a handbag, and a wristband.
Black Sparkly Jumpsuit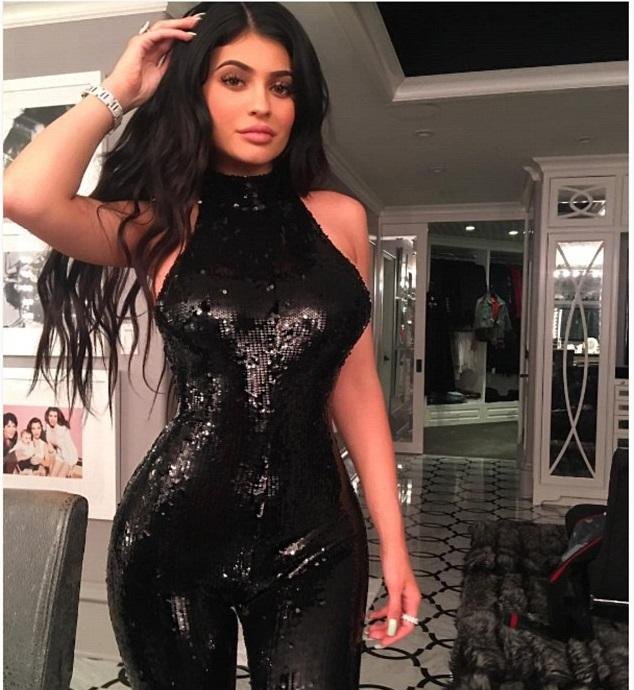 Jumpsuits are never out of fashion or it will be better to say that celebrities like Kylie Jenner keep jumpsuits in trend. You can look at this picture to get some quick Kylie Jenner fashion tips on how to wear a jumpsuit. She's wearing a black jumpsuit and she looks great in every outfit. Also, she's one of the few celebrities who can dare to go out without makeup.
Kylie Jenner Style Jogger Pants
Look at Kylie Jenner outfits jeans to get an idea of what to wear on the weekend. It is leisure time and you want to feel relaxed. You can wear jogger pants that you can match with a round-neck top and pumps to get ready for a short walk for shopping or dining.
Black Bodycon Dress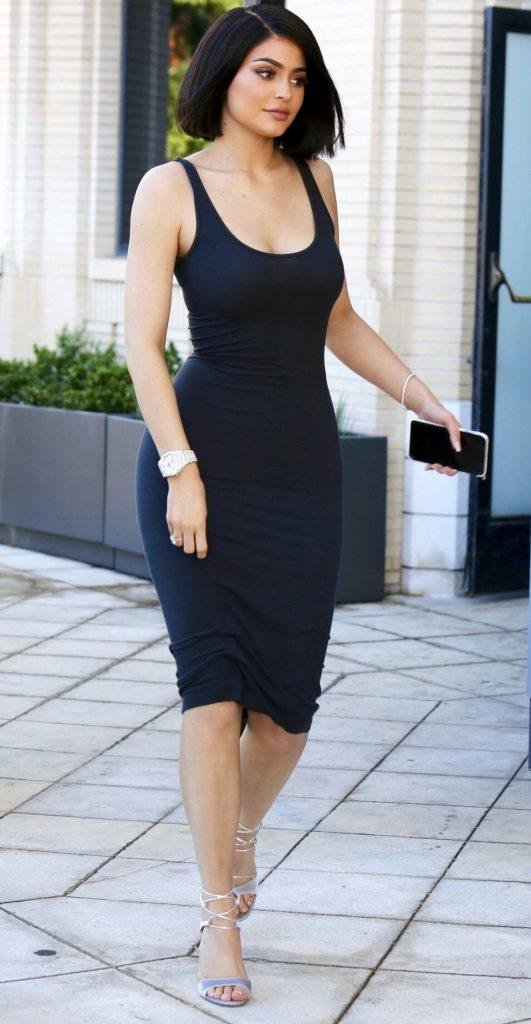 What is this Kylie Jenner clothing style show? Could a bodycon dress be used as sportswear? Yes, it could. At least Kylie Jenner can prove it. If you have a bodycon dress, you can also wear it like a sports dress. Like her, you can also change your style statement. If she is your inspiration, you won't have any dearth of fashion ideas.
Gold Versace Outfit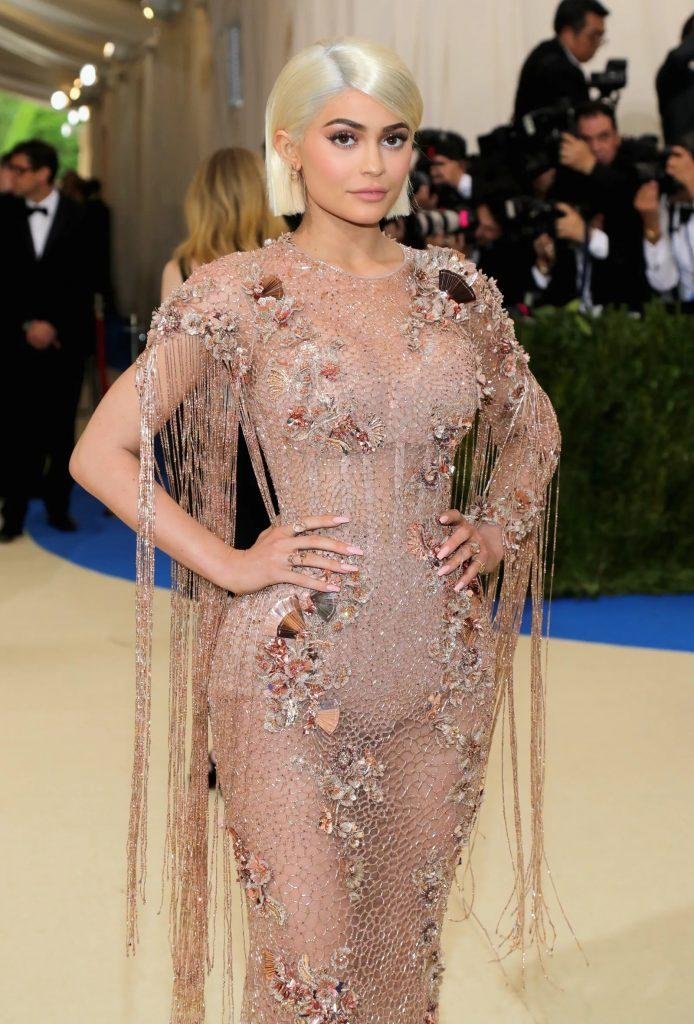 Finally, see your favorite celebrity in an exclusive and expensive dress. With this Kylie Jenner fashion, she sets a golden rule for her fans and followers. It is an expensive outfit but an exclusive one. She made Versace design this dress for her.
Conclusion – Kylie Jenner clothing style can best be described as simple but she makes a statement with her dresses. Like her millions of fans, you can also take inspiration from her fashion style and post your pictures like Kylie Jenner does. Or you can share your opinion on Kylie Jenner's fashion in the comments section.
FAQs
Q: What Is The Most Popular Kylie Jenner fashion?
A: Oversized T-Shirt With Shorts
Q: What Is Formal Kylie Jenner Style?
A: Checkered Suit
Q: What Is Casual Kylie Jenner Style?
A: Jogger Pants
Q: What Is Kylie Jenner Street Style?
A: Red Tracksuits
Q: What Is The Most Expensive Kylie Jenner Style?
A: Gold Versace Outfit