10 Bestselling Cowboy Boots For Girls
Cowboy boots have been a staple of Western fashion for centuries, and in recent years they have gained popularity among girls as well. While traditionally worn by cowboys and ranchers for practical purposes, cowboy boots have now become a fashion statement for women.
With their unique design, high-quality materials, and undeniable charm, it's no wonder that women are drawn to this classic footwear.
When it comes to cowboy boots for girls, there are many styles, designs, and colors to choose from. From classic brown or black leather to bright and bold hues, there's a pair of cowboy boots to suit every taste and preference.
Fashionistas give six reasons why every girl needs a pair of cowboy boots ….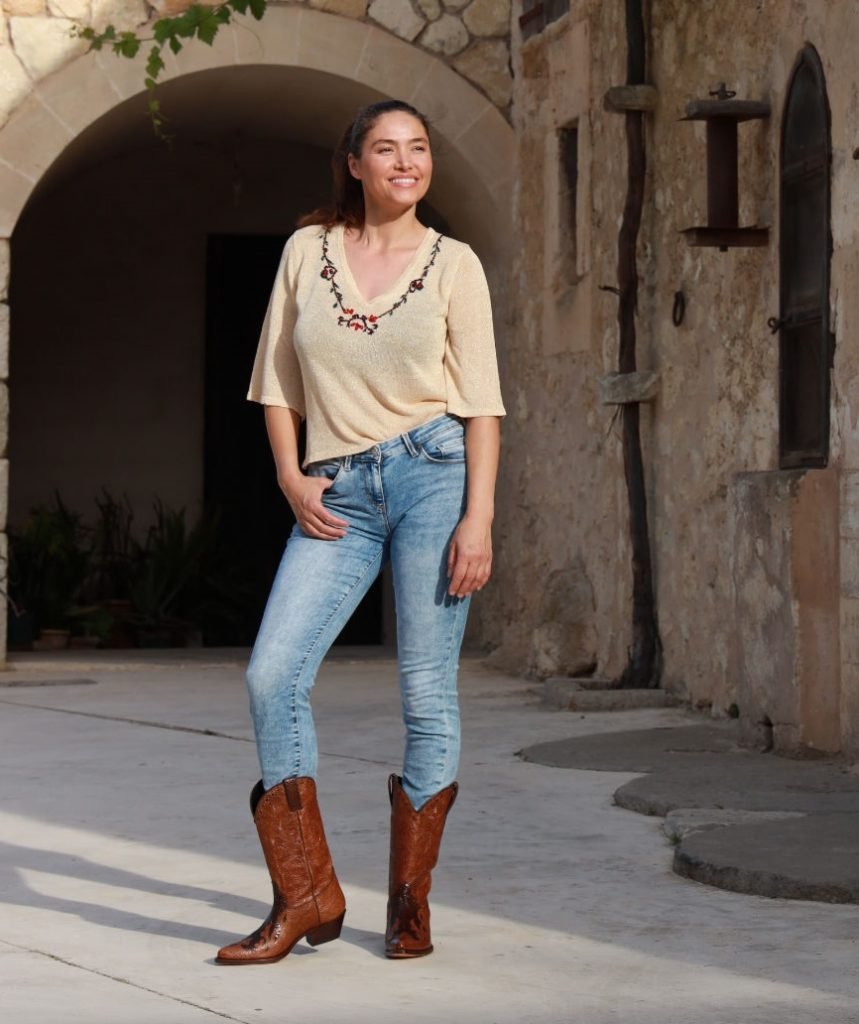 They Are Always In Style
Earlier cowboy boots were meant for use in ranches only but they soon caught the attention of fashion-conscious women who made no mistake in adding these long and sturdy boots to their fashion. Also, shoemakers started making cowboy boots for women's fashion after seeing their interest in these boots. Since then cowboy boots never went out of style. Today they are a hot favorite of women of all ages, especially youngsters.
They Match With All Dresses
Cowboy boots have an edge over others. They go with everything. And you will be surprised to know that many brides went with cowboy boots and they looked pretty well. But we aren't recommending these boots for your wedding gown. You can try the latest design cowboy boots with your other dresses including shorts, skirts, and jeans. Also, cowboy boots can be dressed up or dressed down according to needs. Having a pair of cowboy boots is an asset as you won't have to look for any other option in footwear.
Their Appeal Is Timeless
The biggest advantage of cowboy boots is their timeless appeal. First, these boots can be worn in any season. Second, they are good for treating any surface including tiled, muddy, stony, bushy, and even desert and snow. You can pair your cowboy boots with any of your dresses and wear the boots without worrying about weather, temperature, or atmosphere. Whether you are wearing a sweater or a top, your cowboy boots will be just perfect for all seasons, reasons, and occasions. They won't go out of style.
They Are A Statement
If you are looking for footwear that can make a statement, you should consider buying cowboy boots. These boots come in a wide range of designs, colors, and patterns. Also, they are available in different kinds of leather options. For example, you can choose a pair of cowboy boots that look different. And it won't be an exaggeration to say that you can hardly find two types of cowboy boots with similar designs and colors.
They Can Make You Taller
Every pair of cowboy boots has heels that can add a few inches to your height. And for this reason, wearing a pair of cowboy boots can make you look a few inches taller. If you want to look taller, you can wear a pair of cowboy boots with jeans and a top. This dress with boots with heels will make you appear at least a few inches taller than you are.
They Are Value For Money Footwear
Cowboy boots are crafted with seasoned hands to last longer. They have artistic detailing and they look new forever. It hardly matters where the boots are used as they retain their timeless appeal forever. You can tread any surface wearing cowboy boots and feel like a winner. These boots are tough on roads but soft for feet.
Here're 10 Bestselling Cowboy Boot
Golden Goose Young Ankle Boots
Not all cowboy boots are made long because many youngsters prefer low-height boots. If you are also looking for a low-key option, you can consider this ankle-length boot with a metal toe cap.
Rachel Comey Willow Tall Boot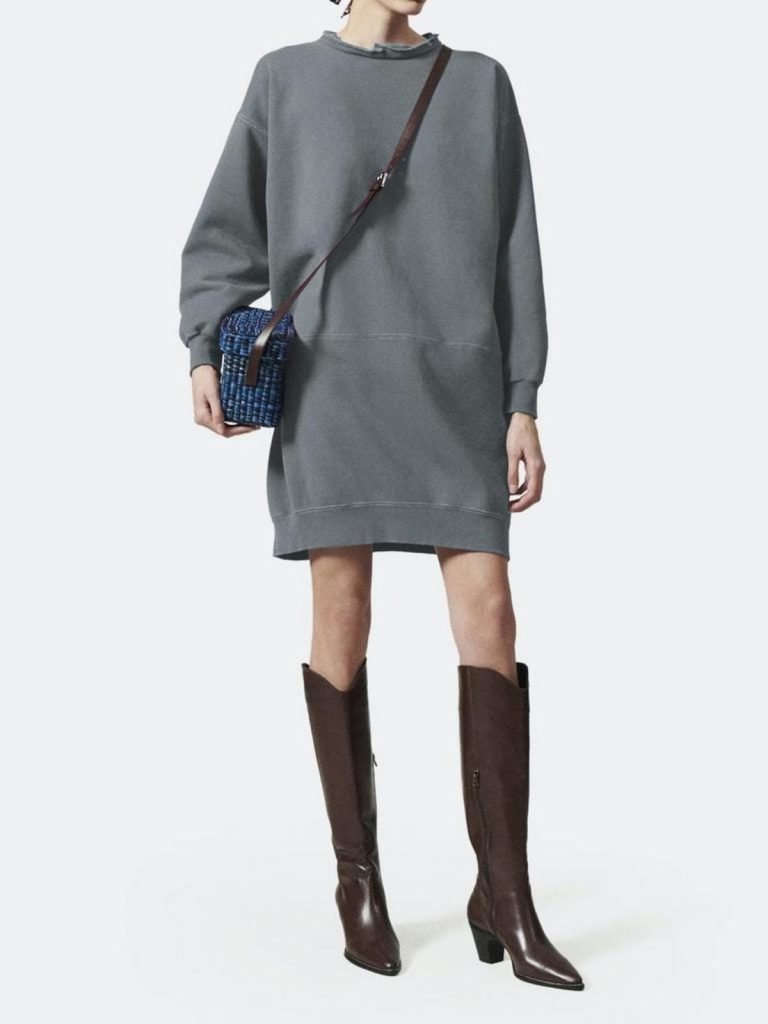 It is a knee-high boot with a 4-inch heel that makes a statement. If you don't mind adding a few inches to your height, you can buy this pair of cowboy boots for your dresses.
Corral Sand Embroidery Western Boots
The latest collection of cowboy boots is so rich that you can keep shopping around and adding boots of new designs to your wardrobe. These boots are embroidered to meet the fashion need of young users.
Vintage Foundry Co. Arielle Ankle Boots
As you can see we're continuously adding ankle-length boots to our list. It shows that ankle-length boots are gaining more and more popularity. Their biggest advantage is their convenience.
Isabel Marant Leyane Leather Western Booties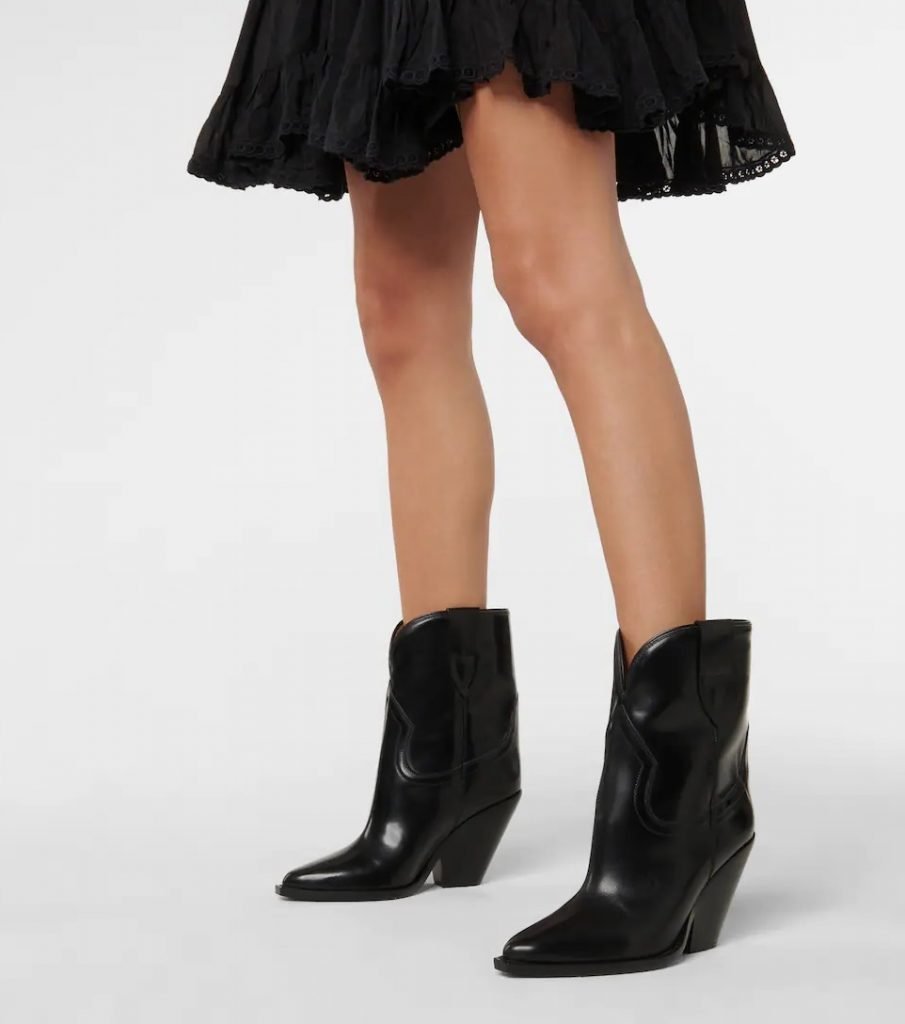 These are real cowboy boots designed for women ranchers. It features stacked and slanted heels that give it a distinct silhouette and a cool girl touch. Also, their black color suits every dress and occasion.
SteveMadden West Pink Leather
These knee-high boots will steal your heart with their color and design. They are pink and for this reason, they look super feminine. If you are looking for a pair of fashionable cowboy boots for girls, you should consider this pair.
MissHeel Silver Cowgirl Boots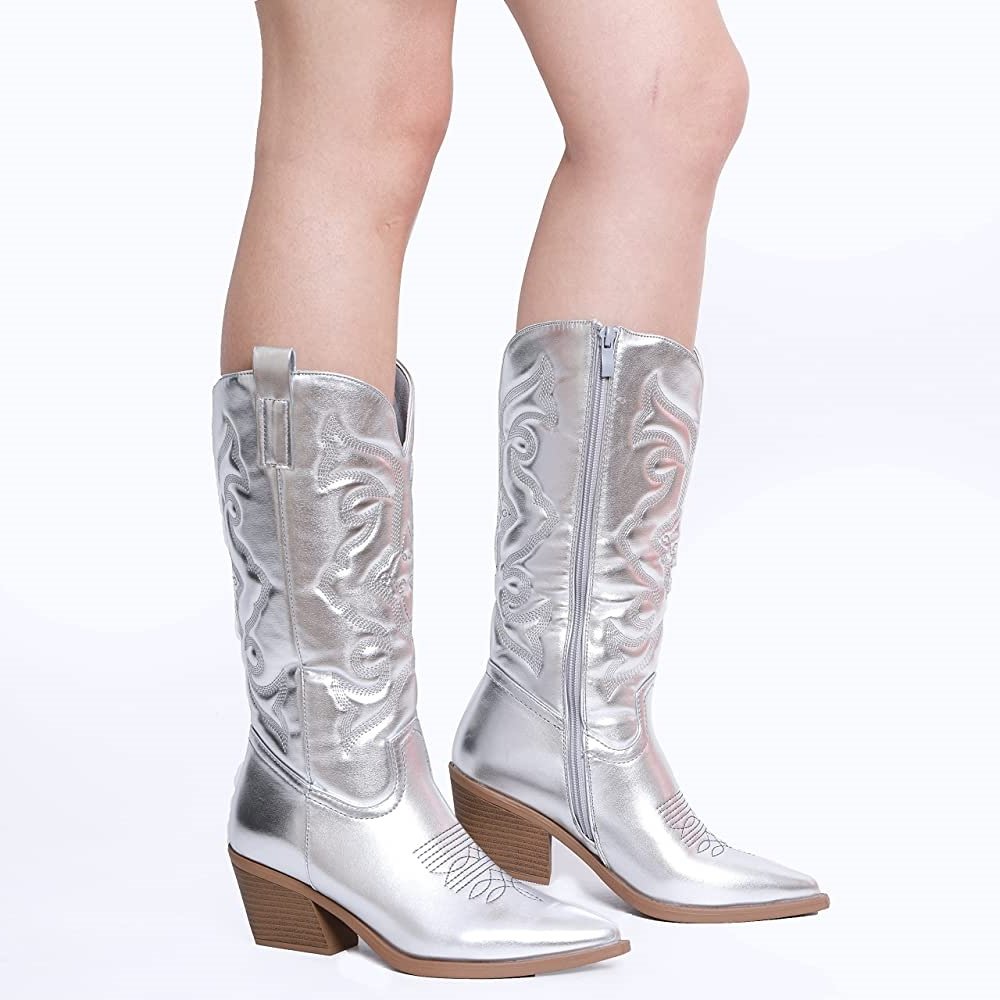 These boots take the fashion to a level up. These silver boots look metallic and tough from the outside but they are ultra-luxurious from the inside. The biggest advantage of these boots is their shine.
Old Gringo Lovers & Flowers Boots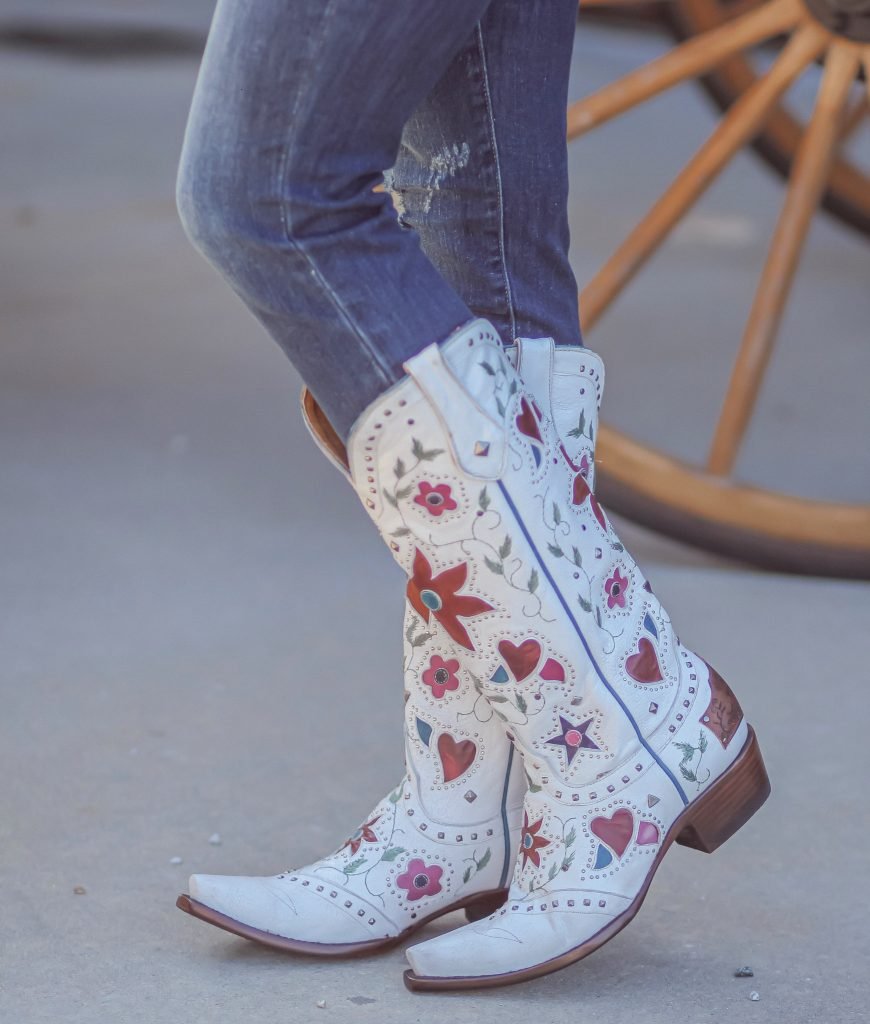 These made-in-America boots feature incredible embroidery and decent heels that will add a few inches to your height. Also, they have distinct toe styles.
Momo New York Embroidered Western Boots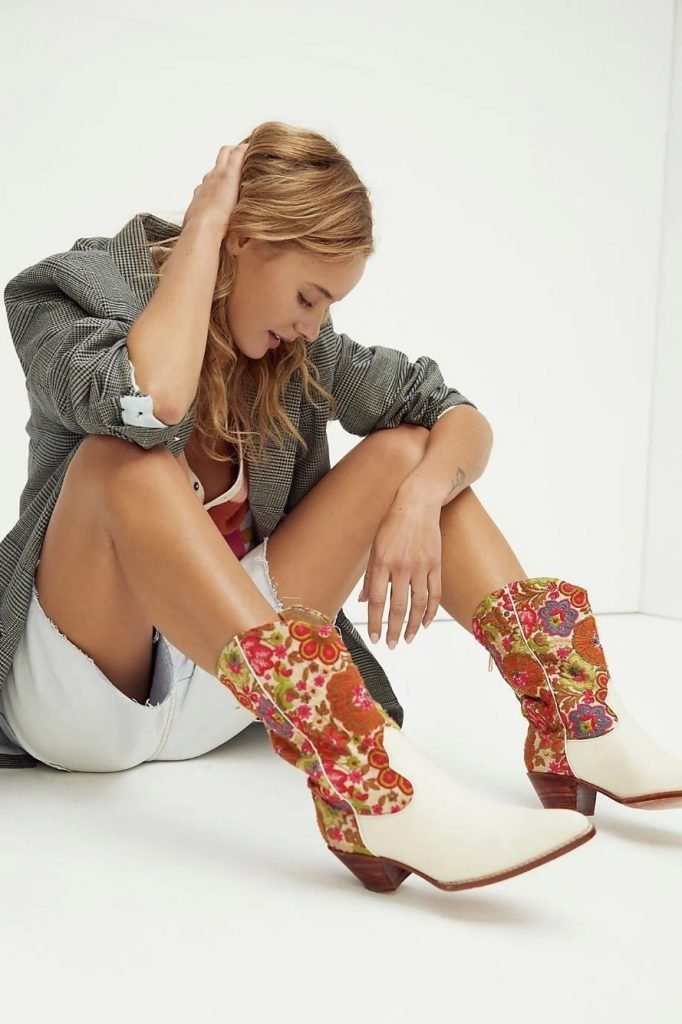 If you are looking for a pair of unique handcrafted boots then consider these boots. They feature floral embroidery that is hard to be found on any other pair. Also, their ivory leather makes them different.
Idyllwind Tumbleweed Performance Western Boots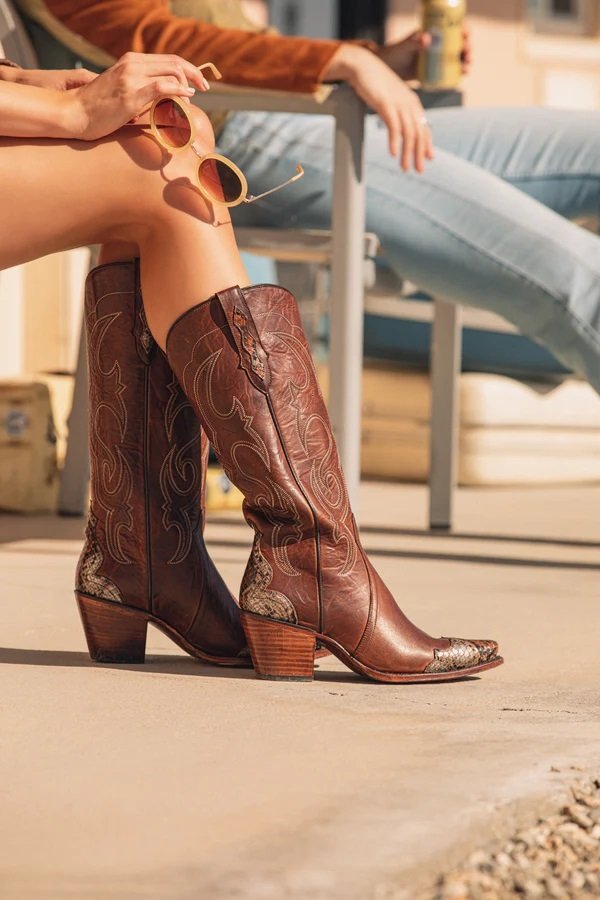 They are square-toed cowboy boots with classic cowboy heels. Also, they feature intricate embroidery that makes them unique. Their cushioned footbed won't let you feel any discomfort even after hours of wearing.